GoFit and Athletes' Performance team up to bring you Sports Performace Products—many of the same training methods and products used by leading pro athletes who train with Athletes' Performance. Join Mark Verstegen, founder of Athletes' Performance Institute and author of the best selling Core Performance book series, as he leads you through scientifically proven exercises to help you achieve your goals. 20 Speed Cone Set

The Core Performance Speed Cones are designed to increase any athlete's speed and agility. The set of 20 bright colored cones is great for running speed trials or setting up obstacle lanes. Includes a convenient stow-and-go handle for easy portability and storage and includes a Core Performance training DVD led by Mark Verstegen, trainer of Top Champions in sports.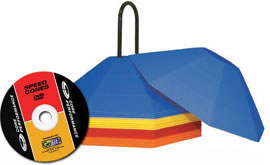 In stock. Usually ships in 1 business day.