Build your own EFS 2x2 Power Rack

What separates EliteFTS racks from the competition?

Backer Plates at all connection points. This provides greater stability and ensures that the rack frame will not be damaged or bent during assembly.

Rear K-Brace standard on all racks to help stabilize the Power Rack.

Weight Storage is welded to 3/8" flat bar then bolted onto the rack for the strongest weight storage possible.

Sumo Base to allow a wide stance for squatting and dead lifting.

Completely customizable to fit your needs including but not limited to color, height, chin bars, etc.

Comes partially assembled to allow for the first training session to begin quicker with the least amount of assembly as possible.

11 gauge steel (1/8" thick) but by using Backer Plates that are 3/8" thick the bolts have 1/2" of material supporting the connection on one side and 3/8" on the other.

Manufactured in the USA.

Lifetime warranty on all frames and welds.

Tested by the strongest athletes in the world.

So you're looking for a power rack but you want to build it to your specific needs?

No problem.

You can now add whatever options you like to our 2x2 rack. The 2x2 frame is just as strong as 3x3 or 4x4 posts but allows us to place the holes closer together.

The 2x2 racks are most popular in home gyms, garage gym and other budget-conscious facilities looking for great specs and the highest quality in the market.

Standard features include:

1 inch hole spacing throughout the bench region.
2 inch hole spacing throughout the rest of the rack.
Sumo base for wide squatting and pulling.
Custom J-hooks for optimal squatting and benching.
Rod and Pipe safety hooks built for bar protection that will never bend.

This rack is built to last a lifetime. We strongly believe that the power rack is the most important piece of equipment in any weight room and should never have to be replaced.

VIDEO BLOG
Why you need the safety rod and pin bars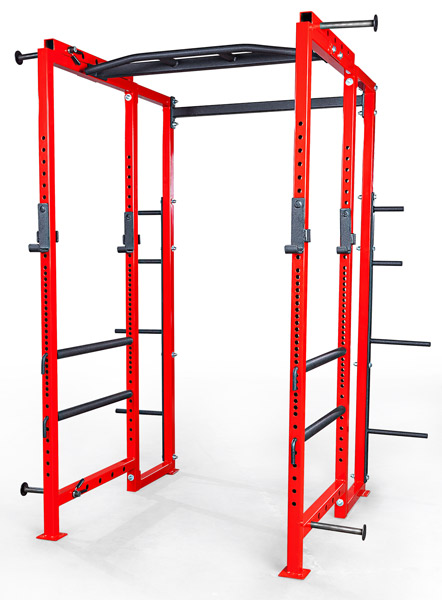 PARTIALLY ASSEMBLED FREIGHT SHIPPED

Usually ships in 3-4 weeks. Partially assembled flat shipping rates apply to the continental US only. AK, HI, and international orders, please call for a shipping quote.