EFS 3x3 Classic Rack

What separates EliteFTS racks from the competition?

Backer Plates at all connection points. This provides greater stability and ensures that the rack frame will not be damaged or bent during assembly.

Rear K-Brace standard on all racks to help stabilize the Power Rack.

Weight Storage is welded to 3/8" flat bar then bolted onto the rack for the strongest weight storage possible.

Sumo Base to allow a wide stance for squatting and dead lifting.

Completely customizable to fit your needs including but not limited to color, height, chin bars, etc.

Comes partially assembled to allow for the first training session to begin quicker with the least amount of assembly as possible.

11 gauge steel (1/8" thick) but by using Backer Plates that are 3/8" thick the bolts have 1/2" of material supporting the connection on one side and 3/8" on the other.

Manufactured in the USA.

Lifetime warranty on all frames and welds.

Tested by the strongest athletes in the world.

There is nothing fancy about this rack. Unless you think a tough, durable rack made to handle big weights is fancy. This is our 3x3 power rack stripped down to the essentials: safety pins, chin bar, and j-hooks.

This rack is all about simplicity in training. Squats, benches, deadlifts and chins, these have been the cornerstone of every strong person's training arsenal.


The EFS Classic Rack Features:
3x3 tubing
Sumo base
Weight storage
1 pair of j-hooks
1 pair of safety pins (rod and pipe)
Chin bar
1.5 to 2 inch hole spacing

This rack is extremely easy to assemble. Attach the k-brace in back, the weight storage and the chin bar. You'll be training in 20 minutes or less and you can look forward to a lifetime of personal records.


Rack specs:
7.5 feet
11 gauge steel
43"x30" inside squatting area.
The total footprint is 49"x61".


Click the image to view available accessories





Why a 3x3 Rack Kicks Ass:

This rack does not need to be bolted down unless you are doing very intense band work.

A 3x3 looks great in any setting, home, or training center.

Not only is it built to last; it LOOKS like it is built to last.

Hole spacing is perfect for every size and shape of lifter. You do not need to do a calf raise or quarter squat to take a bar off. Plus, this is great for rack pulls and bench lockouts.

The j-hooks are not too deep. This is essential for getting the proper position in the bench press. This is something all of our competitors seem to have missed. This small detail makes a big difference to serious lifters.

The sumo base allows you to get a wider stance.

Rod and pipe are easy to adjust and built for lockout work.





VIDEO BLOG
Why you need the safety rod and pin bars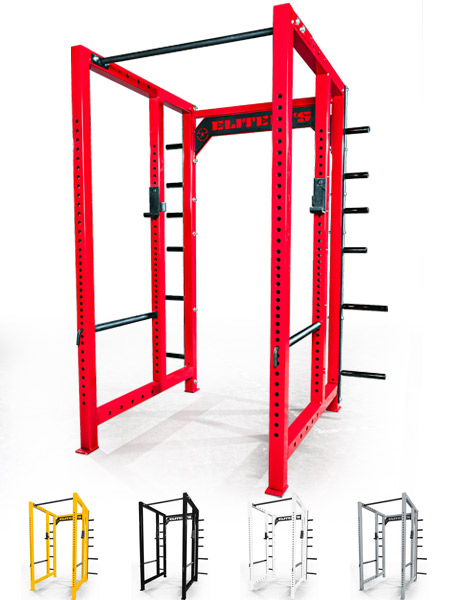 PARTIALLY ASSEMBLED FREIGHT SHIPPED

Usually ships in 3-4 weeks. Partially assembled flat shipping rates apply to the continental US only. AK, HI, and international orders, please call for a shipping quote.