Welcome to the next generation of squatting

This specially designed monolift allows for optimal squat training by taking the walkout way from the lift. You un-rack the weight while your training partner pulls the lever moving the rack hooks forward. The hydraulic lift and lever support stands adjust for all heights and hand positions.
This is a must for heavy band usage.
Made for heavy competitive and commercial use.
Excellent for all types of squats, box squats and good morning movements.
Extra wide base for wide squatting.
If you are a serious powerlifter, meet promoter, trainer or strength coach the Mono Style Squat stand will change you forever. Meets run faster, weight changes smother, and training in groups is no longer a problem. It only takes seconds to change rack heights or move the weight hooks to different positions.
Elitefts.com Inc. does not support or endorse the use of any suspension strap, chain, rope, band or other device from the top of this equipment. This can result in serious injury and or death. Using such attachments is at the risk and liability of the user and not that of Elitefts.com Inc., its partners, or its manufactures.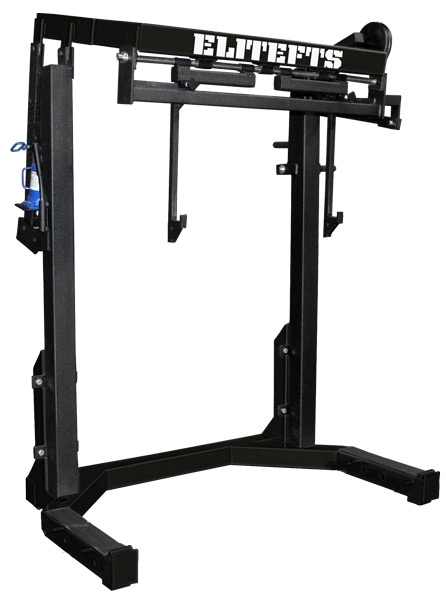 PARTIALLY ASSEMBLED FREIGHT SHIPPED

Usually ships in 6-8 weeks. Partially assembled flat shipping rates apply to the continental US only. AK, HI, and international orders, please call for a shipping quote.