Hanging leg raises are one of the three most important ab exercises, in my opinion. Do them with no shoulder discomfort or grip problems. The Valeo Ab Strap has a large hook that can fasten to just about any rack or pull-up bar.
Try 5 or 6 sets of failure with these and you will wake up the next day with the same feeling you used to have in your gut after those heavy bar nights we all try to forget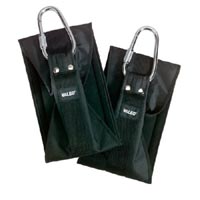 In Stock. Usually ships in 24 hours.