The Best Way to Buy Bands

This pack is the best way to go. You will get (2) Strong, (2) Average, (2) Light, and (2) Mini Bands with each order. Not only do you save, but you also will never need to ask what band you need.

*You know bands are great.
*You know what they can do for you.
*You know they will change your program forever.
*You have heard the results.
*You need to get some today.

Band Tension

EFS measured band tension on the EFS Monolift and figured some people would like to know what we came up with. This may help you figure out what kind of tension you have, or give you an approximate idea of what you have.

1. Base of the Monolift is 4x4.
2. All bands were choked.
3. Bar was placed 52 inches from the ground.
4. Bands were on the sleeve of the barbell; one per side.
5. Bands were either brand new or used 2-3 times.
6. For every inch the bar went down, the tension decreased by about 10 pounds. This only held true for the first 1/3 of the way down.
7. We found that choking the bands around a 3x3 base caused the tension to decrease 40 pounds, thus holding statement #6 true.
8. Total tension was for BOTH bands.

Band/Tension at the Top

• Strong band – 175 pounds
• Average band – 115 pounds
• Light band – 70 pounds



PRODUCT CONTAINS LATEX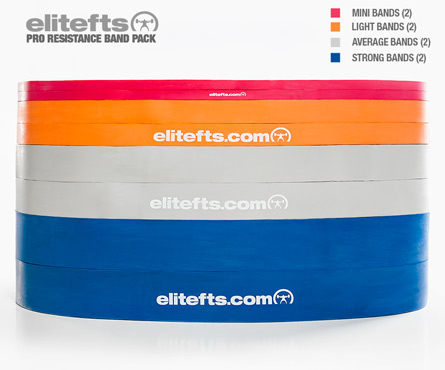 Usually ships in 24 hours.