R2 Combo Rack

What separates EliteFTS racks from the competition?

Backer Plates at all connection points. This provides greater stability and ensures that the rack frame will not be damaged or bent during assembly.

Rear K-Brace standard on all racks to help stabilize the Power Rack.

Weight Storage is welded to 3/8" flat bar then bolted onto the rack for the strongest weight storage possible.

Sumo Base to allow a wide stance for squatting and dead lifting.

Completely customizable to fit your needs including but not limited to color, height, chin bars, etc.

Comes partially assembled to allow for the first training session to begin quicker with the least amount of assembly as possible.

11 gauge steel (1/8" thick) but by using Backer Plates that are 3/8" thick the bolts have 1/2" of material supporting the connection on one side and 3/8" on the other.

Manufactured in the USA.

Lifetime warranty on all frames and welds.

Tested by the strongest athletes in the world.

This rack includes all the best features you can find in a power rack. These include a sumo base, 1 and 2 inch hole spacing, a chin bar, band pegs on the top and bottom of rack, weight storage, band storage, extra J hooks, extra safety pins, 0-90 flat to incline bench and dip attachments.

This rack is great for any weight room but has become a top seller for home and garage gyms. The features associated with this rack give you the best bang for the buck. Great for all barbell training movements and built to stand the test of time.

Hear this:

"Hey guys I though I would drop you a note to tell you how great the R2 Combo Rack is. When it arrived I was shocked at the quality of the rack. The web site does not do this justice. It is the best rack I have ever seen. After using it for the past four weeks I am jacked up about all the different J-cup setting I can use. I finally figured out what you mean by pulling the bar out of the rack to activate the lats when benching. Great product! Keep up the great work."
- Brian Rogers

VIDEO BLOG
Why you need the safety rod and pin bars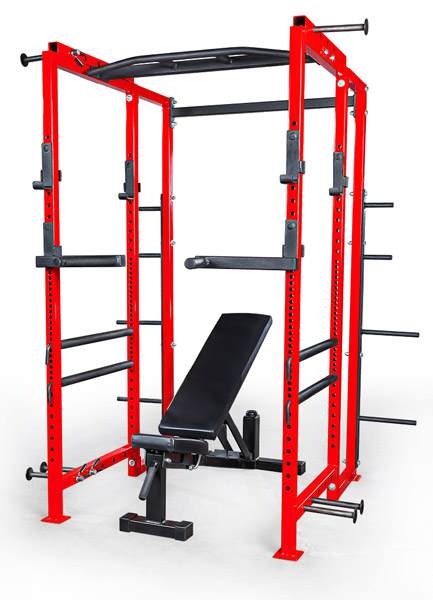 PARTIALLY ASSEMBLED FREIGHT SHIPPED

Usually ships in 3-4 weeks. Partially assembled flat shipping rates apply to the continental US only. AK, HI, and international orders, please call for a shipping quote.