ALL TIME BEST SELLER

If you're not dragging a sled than you're living in the dark ages. Dragging offers many benefits from recovery to pure strength development. This heavy duty 35-pound sled is meant to be used on most surfaces and built to last. The strong steel post is built to hold multiple Olympic plates and 1/4 inch steel spacers are placed to allow for easy unloading of plates. All sleds ship with one heavy duty nylon strap cut with 8" inch loops. These loops are made to fit through your belt negating the need for a pulling harness.

Great for ...

GPP Work
Injury Rehabilitation
Strength Training
Prehabilitation
Increased Work Capacity
Hypertrophy
Starting Strength
Acceleration Strength
Strength Endurance

Great Sled Training Movements

Forward Walking
Backward Walking
Forward Ankle Dragging
Backward Ankle Dragging
Front Shoulder Raise Dragging
Rear Shoulder Raise Dragging
Walking lat Pulls
Walking Chest Presses
Walking Triceps Extensions
Walking Pull Throughs
Forward Walking with Hands on Straps
plus many more...

The best thing about dragging a sled is the crazy looks you get from your neighbors. One customer used to tell us stories about the comments he get while dragging his sled on the sidewalks of NY city. Now that's HARDCORE!

Sled can be dragged on grass, turf and most concrete and asphalt surfaces. Reasonable scuffing and scratching will occur, both to the sled and the surface. EFS is not liable for any damages incurred to these surfaces or to the sled.

Sled measures 18x24. Weight post is 10" long

The sled in action:



Learn more about DeFranco's training HERE

Sled may look slightly different than pictured.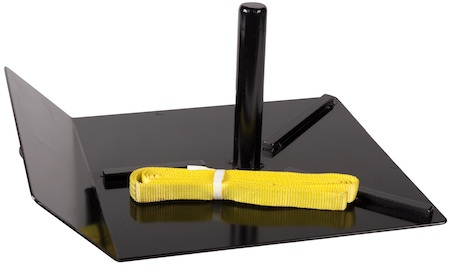 Will usually ship within 2-3 business days. Flat shipping rates apply to the continental US only. AK, HI, and international orders please call for a shipping quote.*When purchased with other drop shipped items Quick Ship delivery is void*