Box Squats Rule!

Box squats are one of the best ways to train the squat. Box squats have been used for years by many of the best power lifters in the world. The secret of boxing squatting has now caught on and you can see them be done by major sports teams, pro athletes, strongman, high school athletes, everyone!

If you are not on the box you are missing out. There is just no better way to teach a squat. This 18"x18" base can adjust from 11" to 16" making it adjustable for everyone. Made of solid 2x2 11 gauge texture coated steel to ensure maximal loads. Complete with slide in post pin and lock down screw.

Look, we know what it is like having to lung around huge wood boxes (if you can build one and fit it in your trunk) back and forth to the gym. This box breaks down into three pieces and will make the tedious job of lugging all your stuff into the gym easier. For you coaches out there, you have to admit this has to hold up better than milk crates.

When looking at a box, always ask yourself if it would hold a 380 pound man with a 1000 pound barbell on his back. When you factor in the total force dropping on to the box for a normal person it will far exceed this. Safety first!

Great For...

Box Squats

High Box Squats

Lunges

Step Ups

Split Squats

Placing your gym bag on so you don't have to bend over as far.

Lacing your shoes up without having to bend as far.

Body weight extensions

Front Squats

One Leg Squats

This box is built to hold ANYTHING. We know how important safety is. Overkill is better than a broken back any day.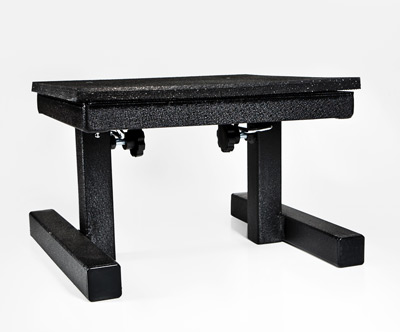 PARTIALLY ASSEMBLED FREIGHT SHIPPED
Will usually ship within 3-4 business days. Flat shipping rates apply to the continental US only. AK, HI, and international orders please call for a shipping quote.*When purchased with other drop shipped items Quick Ship delivery is void*