STRONG(ER)

"We do not have to become heroes overnight. Just a step at a time, meeting each thing that comes up...discovering we have the strength to stare it down."
- Elenor Roosevelt

The Meathead version of this quote means that you don't and can't expect to be bigger, stronger or faster tomorrow or next week. These things take time, dedication and effort.

I think most people understand this.

What they forget is this dedication and effort has to continue to happen even when they DON'T feel like it.

It's when life gets hard or temptation is calling our names that we have to find the strength to "stare it down" and keep moving forward.

This is how you getting strong(er) is done!

LIMITED EDITION
WHILE SUPPLIES LAST

The new elitefts™ STRONG(ER)Lever Belt is very similar to our Econo Single Prong belt, but this belt utilizes a lever closure system. Sizing is similar to the EFS Econo Single Prong belt, but a flathead screwdriver is required to adjust the lever for precise sizing.

Medium: 26-34"
Large: 30-38"
XL: 34-43"
2XL: 37-46"
3XL: 42-50"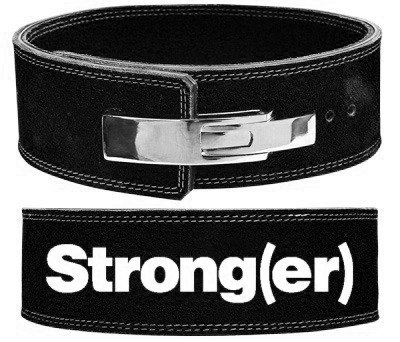 ALL SALES FINAL. NO EXCHANGES OR RETURNS ALLOWED.

In stock. Usually ships in 1 business day.