From EliteFTS

So why did we decided to add Core Performance to our line up? Simple, the movement prep and mobility section of this book is excellent and should be read by any one who trains or coaches. In many cases there is one thing in a book that can make a huge difference in your program. In this book there are several that can and will help you.


From the Publisher

At your core is the body you've always dreamed of. Chances are you haven't met this body yet. And if you exercise the way most people do -- set after set of the same exercises, mile after mile of the same roads -- you never will.

World-class trainer Mark Verstegen shows you a better way. Most workout programs build you from the outside in, but Verstegen shows you how to change your body from the inside out. You start with your core, the mid-body muscles that control your posture and performance in almost every physical activity you attempt.

The Core Performance program is like nothing you've ever seen before, teaching you to use simple tools to lose weight and sculpt a strong, lean, flexible, and powerful body.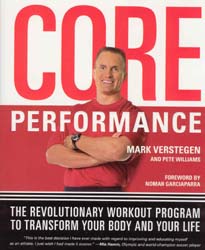 Usually ships in 24 hours.