The Parisi Speed School is proud to introduce the Parisi Training System video series. This first and most essential video in this series covers the Parisi Warmup Method. This active dynamic warmup style is the cornerstone of our program as both a warmup, fitness, and assessment tool. The exercises contained in the video are sure to take your game to the next level. This video contains theory behind the active dynamic warmup method, full exercise demonstration by Bill Parisi and Martin Rooney, and an actual warmup performed at the Parisi Speed School by some of the top NFL Combine athletes in the country. This video is a must for any coach or athlete that is looking to add scientifically proven warmup techniques to their training arsenal.

Available on DVD only.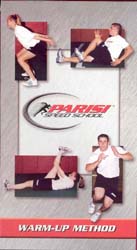 Usually ships in 24 hours.