Bear Crawl

This is from the mind of a sick individual. Sick but economical. The Bear Crawl allows you to perform several different exercises, all of which are crucial for total body strength.

Low Handle/High Handle Push - this is a terrific exercise to develop leg strength and proper conditioning levels. This is very similiar to the Prowler. Not only do your legs get taxed, but so does your lats and upper back. This is what Conan did for all those years - pushing the grain mill. And look at his physique! Be careful though; it might turn you into a Republican.

Farmer's Walk - This is a great exercise to build your upper and lower body strength. Your traps, lats, lower back, legs, grip, calves and ankles are all at work during this exercise. This is such a primal movement which explains why few people even attempt it any more.

Bear Crawl - This one sucks for all the right reasons. This will run you down and throw you out. Legs, lungs and will. We recommend that you use this in the grass.

Backwards Pushes - You want your legs to burn and scream mercy? This is the movement for you. Load up the weight, squat down and develop the mind and body strength to overcome any obstacle.

* Weighs 120lb
* Measures 3 feet wide (5 feet including the weight horns)
* 50" long
* Frame is 11" off the ground
* Uses Olympic plates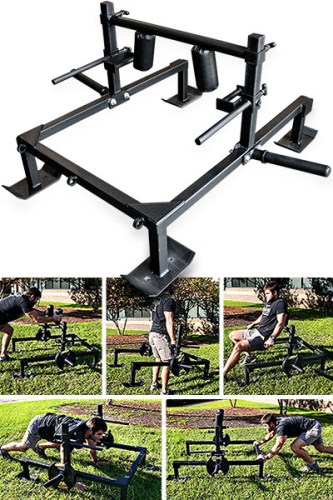 Usually ships in 4-6 weeks. Flat shipping rates apply to the continental US only. AK, HI, and international orders please call for a shipping quote. EFS is not responsible for any damage or wear done on the skis of the Bear Crawl when pushing on concrete or pavement.