BUY TWO GET ONE FREE!

If you don't have a foam roller yet, get one. In fact, get this one and get it now. Self-myofascial release is now recognized as an integral part of proper recovery and warmup. Rolling around on a quality foam roller like this one will make you feel better and perform better, so don't shortchange yourself.

This roller is firm without being stiff. It's density allows it to hold up to heavier users and extensive use.

Available in black.

Note: Foam rollers will all have some form of surface imperfections. Bubbles, color differences, slight pitting, etc, all of these things are normal and do not affect the functionality of the product at all.

Store your foam roller away from sunlight and don't put stuff on top of it, as continuous pressure can result in indentations and deformation.

To clean: Do not use bleach, oils, or chemical solvents to clean your roller. These products may cause the roller to become soft, discolored, or deformed. Clean with soap and water only.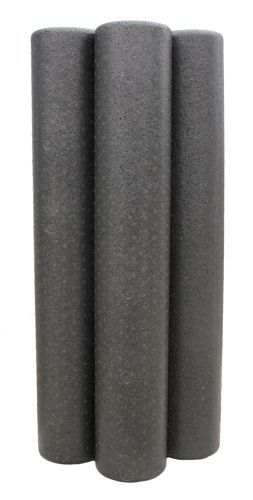 Will usually ship within 1 business day.
Flat shipping rates apply to the continental US only. AK, HI, and international orders please call for a shipping quote.

This item can ship ONLY UPS Ground.